Shriners Hospital for Children / Hôpital Shriners pour Enfants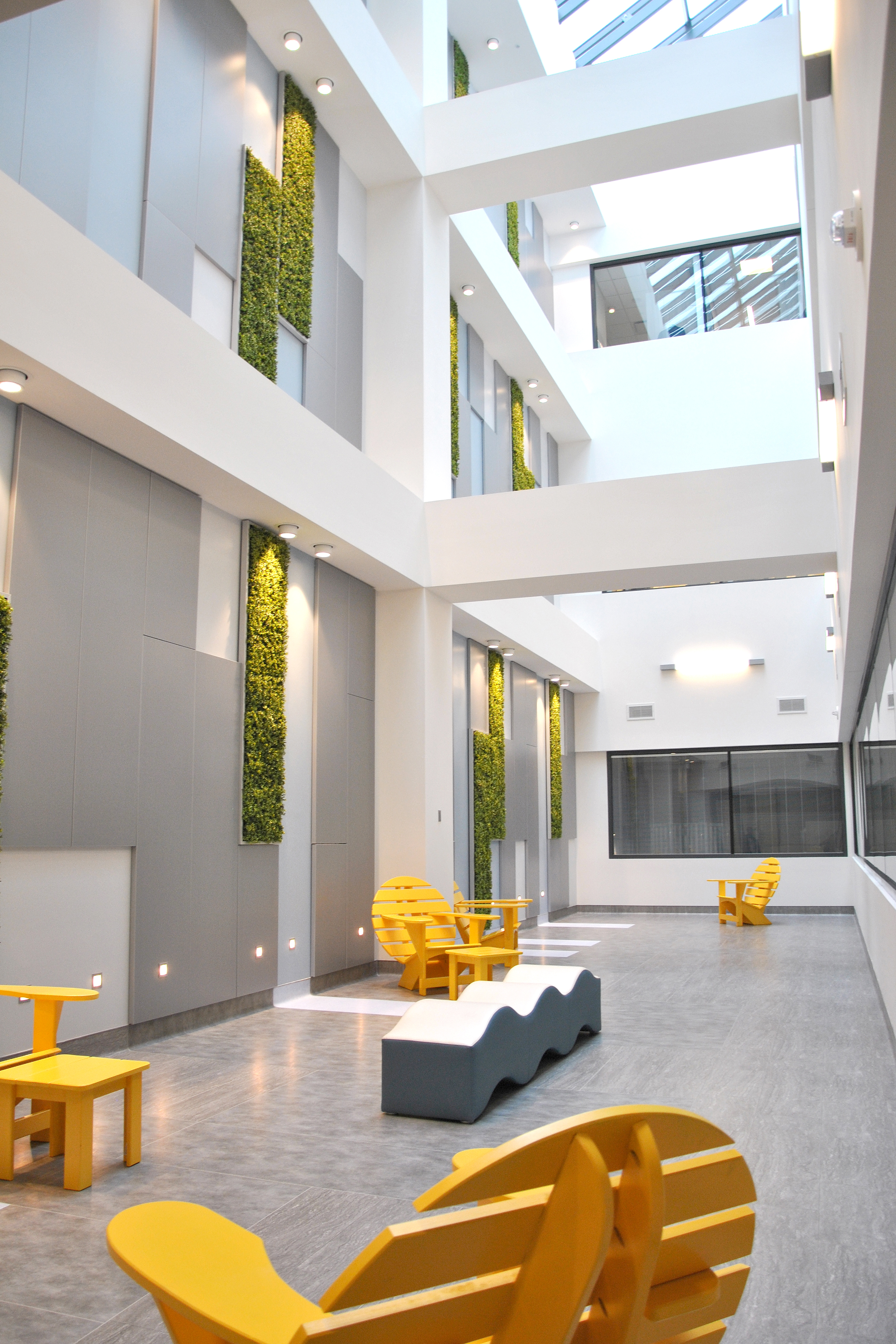 Having to be at the hospital is not fun, certainly not for a child. It was from this perspective that the new Shriners Hospital for Children in Montreal, Quebec was conceived. Part of a network of 23 Shriners hospitals across North America, the design of this new 180,000 square foot orthopaedic pediatric facility takes its inspiration from the Shriners mission to "provide the highest quality care to children with neuromusculoskeletal conditions within a compassionate, family-centered and collaborative care environment." The hospital opened in October, 2015 on the new Glen Yards Campus of the McGill University Hospital Centre in Montreal. Shriners is an independent facility from the McGill Hospital Centre but is integrated into the complex's massing to benefit from a direct adjacency to the Montreal Children's Hospital. This Shriners facility provides rehabilitation and ambulatory care services, 4 operating rooms, 18 private patient rooms and 4 critical care beds, as well as a conference centre and surgical simulation laboratory, a small museum and 2 floors dedicated to research laboratories.
The Montreal facility is the only Shriners hospital in Canada. The theme for the interior design embraces this unique position, celebrating the regional diversity of the whole of Canada. The facility's eight floors each present a different Canadian landscape to be explored by young patients, each with its own unique qualities expressed through a specific palette of colours, motifs, animals and activities. The hospital's interiors are designed to appeal to the child's experience; to transport them to a more amusing and less intimidating setting. All is done to lighten the ambience and engage their imagination.
The visitor navigates from the Pacific to the Atlantic coast, passing from forest to frozen tundra to beach. The voyage begins on the ground floor with a trip through the St. Laurence Valley, its waiting rooms nestled in maple forest amongst hidden woodlands animals and installed on a hockey rink observed by reception desks clad in hockey sticks. It continues through the second floor Badlands, following a trail of large footprints to the rehabilitation room where several dinosaurs can be found stretching up the double height walls. An expedition to the third floor surgery department is a stop in the Great North. Waiting families and patients snuggle down with the polar bears amongst giant snowflakes, under the watchful eye of a guardian inuksuk. In-patient care on the fourth floor is a trip to the Atlantic coast beach. Care desks are set on sailboats floating on the waves. Patient rooms are installed on the beach, each under its own giant sandcastle. The therapeutic play room is an undersea adventure.
These whimsical elements interwoven with large scale print graphic murals compose an inviting and playful atmosphere. The theme carries through to the signage and wayfinding, which was also designed by the architect. Natural light bathes the building's interior from skylights, sidelights and clearstory windows contributing to a peaceful feeling of spaciousness.
Devoir être à l'hôpital n'est pas amusant, surtout pas pour un enfant. C'est de cette perspective que le nouvel Hôpital Shriners pour enfants de Montréal, au Québec, a été conçu. Faisant partie d'un réseau de 23 hôpitaux Shriners en Amérique du Nord, la conception de ce nouvel établissement de pédiatrie orthopédique de 180 000 pieds carrés s'inspire de la mission Shriners consistant à «fournir des soins de la plus haute qualité aux enfants atteints de troubles neuro-musculo-squelettiques dans un environnement compatissant et centré sur la famille. environnement de soins collaboratif. »L'hôpital a ouvert ses portes en octobre 2015 sur le nouveau campus Glen Yards du Centre hospitalier universitaire McGill à Montréal. Shriners est un établissement indépendant du Centre hospitalier McGill, mais il est intégré à la masse du complexe pour bénéficier d'une proximité directe avec l'Hôpital de Montréal pour enfants. Cet établissement de Shriners fournit des services de réadaptation et de soins ambulatoires, 4 salles d'opération, 18 chambres privées et 4 lits de soins critiques, ainsi qu'un centre de conférence et un laboratoire de simulation chirurgicale, un petit musée et 2 étages dédiés aux laboratoires de recherche.
L'établissement de Montréal est le seul hôpital Shriners au Canada. Le thème de la décoration intérieure embrasse cette position unique, célébrant la diversité régionale de l'ensemble du Canada. Les huit étages de l'établissement présentent chacun un paysage canadien différent à explorer par de jeunes patients, chacun avec ses qualités propres exprimées par une palette spécifique de couleurs, de motifs, d'animaux et d'activités. Les intérieurs de l'hôpital sont conçus pour faire appel à l'expérience de l'enfant; pour les transporter dans un cadre plus amusant et moins intimidant. Tout est fait pour alléger l'ambiance et engager leur imagination.
Le visiteur navigue du Pacifique à la côte atlantique, passant de la forêt à la toundra gelée et à la plage. Le voyage commence au rez-de-chaussée par un voyage dans la vallée de la Saint-Laurent, ses salles d'attente nichées dans une érablière parmi des animaux des bois cachés et installées sur une patinoire de hockey observée par des guichets de réception recouverts de bâtons de hockey. Il continue à travers les Badlands du deuxième étage, en suivant une piste de grandes empreintes de pas vers la salle de rééducation où plusieurs dinosaures peuvent être trouvés allongeant les murs à double hauteur. Une expédition au service de chirurgie du troisième étage est une escale dans le Grand Nord. Les familles et les patients en attente se blottissent avec les ours polaires parmi des flocons de neige géants, sous l'œil vigilant d'un inuksuk gardien. Les soins hospitaliers au quatrième étage sont un voyage sur la plage de la côte atlantique. Les pupitres de soins sont installés sur des voiliers flottant sur les vagues. Les chambres des patients sont installées sur la plage, chacune sous son propre château de sable géant. La salle de jeu thérapeutique est une aventure sous-marine.
Ces éléments fantaisistes mêlés à des peintures murales graphiques à grande échelle composent une atmosphère invitante et ludique. Le thème se poursuit jusqu'à la signalisation et l'orientation, également conçues par l'architecte. La lumière naturelle baigne l'intérieur du bâtiment depuis les puits de lumière, les vitres latérales et les fenêtres en bois donnant un sentiment d'espace paisible.
Type: New Construction
Location: Montréal, Québec
Date: Completed in 2015
General Contractor / Entrepreneur Général: SNC Lavalin
Photo Credit: David Dworkind